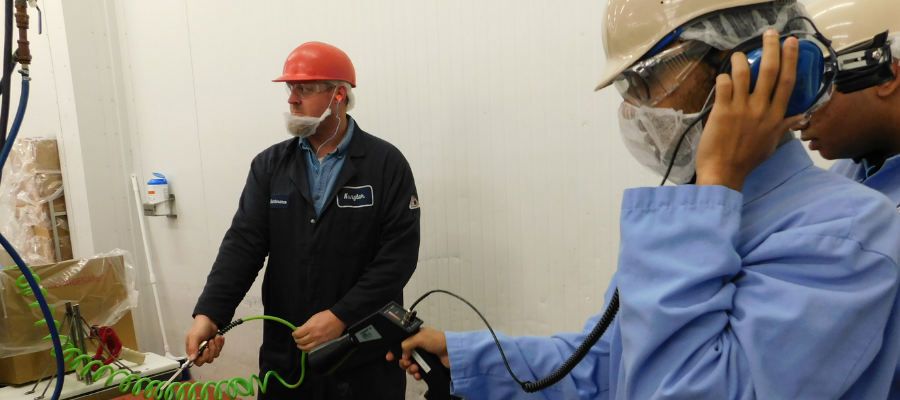 PennTAP (Denise) was very knowledgeable in making energy efficient recommendations and saving energy costs for us.
The Need
Kunzler & Co. was founded in 1901, and manufactures over 500 quality meat products including hams, franks, bacon, luncheon meats and specialty products. Kunzler's meat products can be found in supermarkets, delicatessens, convenience stores, schools, theme parks, sports complexes, restaurants, and household kitchens throughout the United States. 
Kunzler's Director of Facilities, Rodney Shultz, wanted to have an E2 assessment done to reduce energy costs, and he was looking for funding opportunities to help offset the cost of energy projects. 
The Project
Shultz learned about PennTAP through a referral from FirstEnergy. Prior to the energy assessment, the Kunzler team met with FirstEnergy representatives, Sodexo, and PennTAP to discuss energy efficiency opportunities and funding incentives. 
The PennTAP team performed a two-day assessment for Kunzler, working with Shultz and Vince Shell, Maintenance Lead for Kunzler, and provided recommendations for energy savings regarding Kunzler's lighting, compressed air, water use, boiler, and refrigeration systems.

Energy and Environment Team Lead Denise Bechdel and two other PennTAP technical advisors led a total of ten undergraduate students from Penn State's Department of Energy and Mineral Engineering and two graduate student team members through the two-day assessment. This project was funded in part by the Pennsylvania Department of Environmental Protection and the U.S. Department of Energy's State Energy Program. 
"Denise did a very thorough assessment of our plant. In fact, she did such a great job, we had her back to look at our second plant," said Shultz. 
Outcomes and Benefits
Based on PennTAP's recommendations, Kunzler was able to upgrade their compressor, saving them 307,662 kWh and $92,000 annually. PennTAP also helped Kunzler obtain a $24,000 rebate from Penelec to help offset the cost of the project. 
"Rodney and Vince were great working on projects together," said Bechdel. "They both wanted to know as much as they could about energy management of their systems and funding opportunities." 
PennTAP will continue to support Kunzler as they plan a lighting upgrade project for spring 2022. 
PennTAP is committed to helping achieve eight of the UN's Sustainable Development Goals. Of those eight goals, this project aligned with: 
#6: Ensure availability and sustainable management of water and sanitation for all 
#13: Take urgent action to combat climate change and its impacts 
About the Client
Kunzler & Co.
652 Manor Street
P.O. Box 4747
Lancaster, PA 17604
Phone: (814) 682-9016
Website: www.kunzler.com
County: Blair
Industry: Food