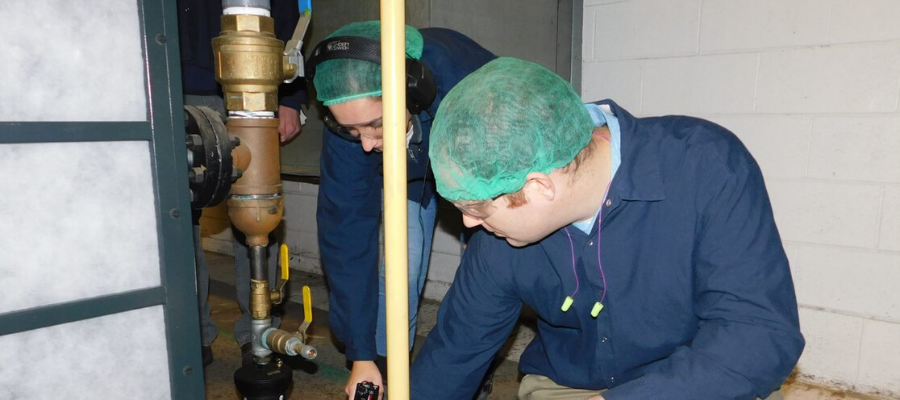 Working with PennTAP provided us real-world experience and feedback that you don't typically get in a classroom setting.
The Opportunity
Thanks to support from the United States Environmental Protection Agency (USEPA), from October 2016 through September 2018, PennTAP provided engaged scholarship opportunities to 39 students enrolled in the energy engineering program in Penn State College of Earth and Mineral Sciences. The energy engineering program is a unique undergraduate program that focuses on providing students the knowledge needed to solve important energy related problems. The students worked with PennTAP advisors to perform economic, energy, and environment (E3) assessments with four Pennsylvania manufacturers.
PennTAP's Role
As an integral part of the Penn State University statewide economic development ecosystem, PennTAP provides students out-of-classroom, real-world experience working with Pennsylvania businesses and anchor institutions – including manufacturers, municipalities, educational institutions, entrepreneurs, and economic development agencies.
The Process
Under the leadership of PennTAP advisors, Penn State students visited manufacturers that specialized in pizza crusts, snacks, pallets, and specialty food packaging. Throughout the site visits, students assessed the wide range of processes that occur within a manufacturing facility. One group of students learned how potato chips are manufactured. Before visiting the potato chip facility, the students had a very basic understanding of what was required; however, being able to see the entire manufacturing process in person helped them understand the tremendous amount of preparations and support work required for such a large operation. Physically visiting these manufacturers provided students unique, hands-on opportunities that complemented their coursework.
In addition, during the site visits, PennTAP advisors took the time to teach students health and safety protocols, including the proper use of personal protective equipment (PPE) and safe behaviors, lessons that will be applicable for their future careers.
The Follow-up
At the end of each site visit, students developed an energy audit report and presented their findings to a group of peers. The presentations were an opportunity for the students to demonstrate their in-depth knowledge of the energy concepts and explain how they applied that knowledge to the real-world problems identified.
The four projects resulted in over $700,000 in economic development and annual electrical savings of over 264,392 kWh per year.