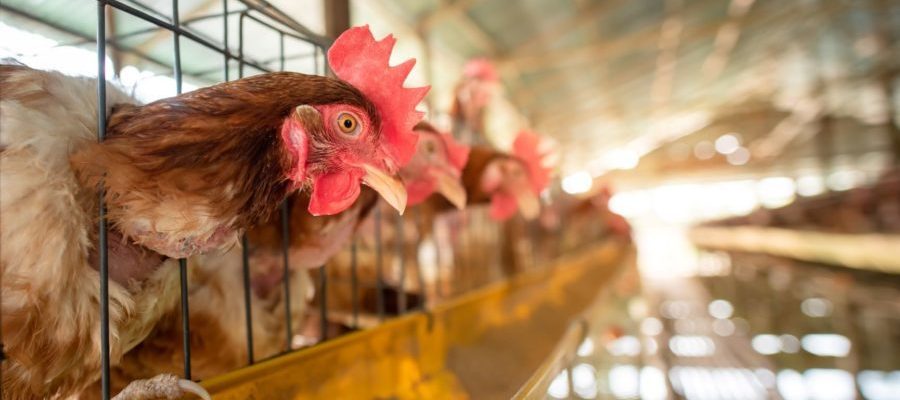 The PennTAP representatives really spent time getting to know our business. They brought many insights which we could not have gotten without them and left us with new skills to apply on our own. We really liked the experience, and the results are thorough.
The Need
This small family-owned poultry processor located in northeastern PA is a supplier of kosher turkeys, Cornish game hens, and chickens, which are processed and sold in different size packages. 
In the summer of 2019, the poultry processor came to PennTAP looking for general consulting on how to reduce their energy consumption.  
The PennTAP Connection
PennTAP worked with the poultry processor in collaboration with the Northeastern Pennsylvania Industrial Resource Center (NEPIRC) to review the manufacturing process in a value stream mapping (VSM) exercise as part of an Economy, Energy, and Environment (E3) assessment.  
VSM is a lean manufacturing tool designed to combine material processing steps with information flow. It helps users create a solid implementation plan that maximizes their available resources and ensures time and materials are used efficiently. 
The poultry processor was looking for no-cost services, and PennTAP was able to deliver an E3 assessment with continuous improvement recommendations all at no cost. 
Prior to the E3 assessment, PennTAP had visited the poultry processor with a group of Penn State students in the spring of 2019 to conduct an energy audit. 
The Project
This project was funded in part by the United States Environmental Protection Agency (EPA). PennTAP made several recommendations to the poultry processor, including upgrading their lighting to LEDs, making process adjustments, updating the plant layout, optimizing the sanitation process to save water, and repairing compressed air leaks. 
One of the first inefficiencies PennTAP advisors were able to solve was a processing bottleneck. The slaughtering process was taking less time to complete than all the other steps in the operation. This led to chickens piling up until the workers on the processing floor were ready for the next batch. Hundreds of chickens would have to be transported to a holding area, only to later be transported back again for processing. This system wasted time, and it decreased the overall quality of the product.  
The PennTAP team found that if the employees on the slaughtering floor were given a five-minute break at the same time each day, the whole operation became more streamlined. This was a simple change the facility could make immediately and at no cost, increasing the quality of their product and saving them $3,000 annually. 
PennTAP's next recommendation was an adjustment to their packaging line, which is a long-term project the poultry processor is in the process of implementing. Currently, the company has individual employees manually processing and cutting chickens for packaging. Each worker on the packaging line has their own chicken at any given time, and they are responsible for performing multiple processing tasks on that bird. PennTAP advised the poultry processor to instead assign each worker a specific singular task to complete on every chicken, rather than have every worker be responsible for every task. This improvement would save them $6,000 in just energy costs and is expected to greatly reduce their overtime need. 
Earlier that same year, PennTAP brought a team of Penn State undergraduate students from an Energy and Geo-Environmental Engineering research class to the facility to do a compressed air leak assessment. Compressed air is used for several of their processes, including packaging, sanitation, and the powering of hand tools. In addition to finding and assessing compressed air leaks, the student team made recommendations on the size and type of new compressed air equipment the poultry processor should purchase. 
PennTAP also connected the company to students from the Penn State Learning Factory, who visited the facility during spring of 2020 to assess the very manual and labor-intensive system they were using to unload tractor trailers. The goal for the project was to find ways to make the process safer and more efficient by utilizing automation to reduce the manual labor involved. Although the project was interrupted by COVID-19, the student team was still able to offer recommendations on how to improve safety around the truck bed and eliminate the need for half of a worker's time, generating cost savings of about $20,000 a year.  
The Outcome
The energy efficiency recommendations outlined in PennTAP's full report estimate savings of more than $49,000, equivalent to 177,500 kWh and 2.5 million gallons of water annually. 
PennTAP Contact
Phone: (814) 865-0427 
Email: penntap@psu.edu 
Conserve energy, reduce waste, cut costs and increase profits at your farm or agribusiness with a free on-site or virtual energy assessment.  
You will receive detailed evaluations and advice as well as assistance with grant applications to fund equipment upgrades, all at no cost. 
From poultry packaging lines to grain drying systems to maple syrup production machines, PennTAP advisors are equipped to assess all your agricultural systems. Contact PennTAP today to schedule an assessment.