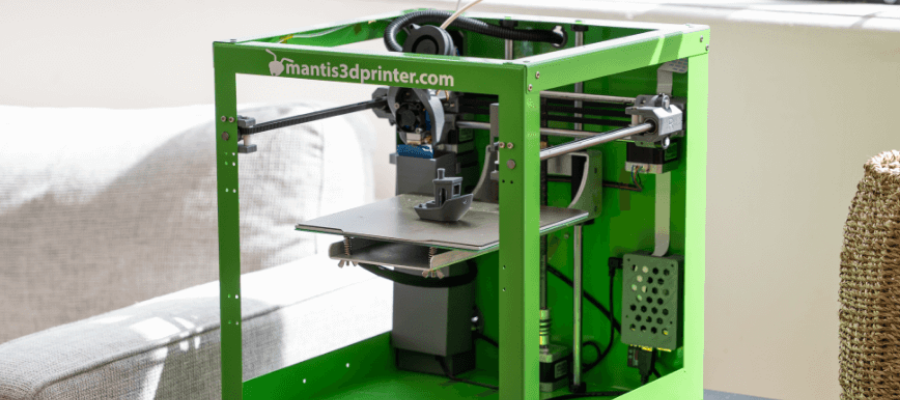 From the very beginning, PennTAP was the start of our business networking with everybody in State College. Without PennTAP, we wouldn't have been able to get in touch with all the other folks who have helped our business flourish over the past couple of years. Someone plants the seed and the tree begins to grow – that was PennTAP for us.
The Need
Verde Mantis is located in Reading, PA and manufactures one of the easiest-to-use 3D printers called the Mantis 3D printer. Founder Joe Sinclair was looking for help improving and iterating on the design and functionality of the 3D printer, as well as for entrepreneurial connections to get his business off the ground. He learned about PennTAP through the Invent Penn State ecosystem and working out of Berks LaunchBox and reached out for assistance.
The Projects
In 2018, PennTAP connected Verde Mantis with Penn State's Bernard M. Gordon Learning Factory student capstone teams to work on initial prototyping and testing of the product. PennTAP matched Verde Mantis in funding for the project through a FirstEnergy voucher.
Most 3D printers require assembly as well as some knowledge of 3D printing software. Sinclair, who grew up loving 3D printers, wanted the people in his life to be able to use 3D printers as well without having to dedicate hours upon hours to setting one up. He started work on creating a 3D printer that could be as easy to use as a 2D printer.
Verde Mantis had students from the Learning Factory take an unbiased look at how well the printer worked for them, testing it and providing Sinclair with insights into what could be improved to make it both easier to use and manufacture.
Verde Mantis has since funded several Penn State capstone teams to work on the 3D printer for continual review and iteration, and Sinclair said they intend to continue to work with the Learning Factory students on design projects as time goes on.
"Working with the Learning Factory students is not only useful for us in keeping us connected to the Penn State ecosystem, but also, some of the people we bring on board to work with us are Penn State grads who worked on our project," Sinclair said. "It's been really mutually beneficial."
A PennTAP advisor also connected Sinclair with Ben Franklin Technology Partners, where he was able to go through the TechCelerator program and further improve his business model.
Seeing an opportunity for a potential partnership, PennTAP connected Verde Mantis with Penn State's Center for Science and the Schools (CSATS) to collaborate on a professional development program for high school teachers. This connection resulted in Verde Mantis becoming CSATS's 3D printer supplier for a project involving the 3D modeling of biomolecules.
Outcomes and Benefits
One of Verde Mantis's latest partnerships was recently written about on the world's largest 3D printing publication. The company's partnership with software company The Spaghetti Detective (TSD) makes the Mantis 3D printer the only 3D printer on the market that will detect print errors, alert a user remotely, and stop a failed print automatically before it finishes. This saves users the time and money associated with bad prints, just like 2D printers detect they're out of ink or have a jam. Mantis printers come with a built-in camera that watches the 3D print while it's happening and determines whether or not the print is going well.
"We see this as a giant leap forward as we are being noticed by larger industry players," Sinclair said. "We certainly couldn't have achieved this without the help of PennTAP over the years."
About the Client
Verde Mantis
201 Washington Street Suite 534
Reading, PA 19601
Phone: (272) 200-2991
Email: info@mantis3dprinter.com
Website: www.mantis3dprinter.com
County: Berks
Industry: Manufacturing, Computers & Electronics